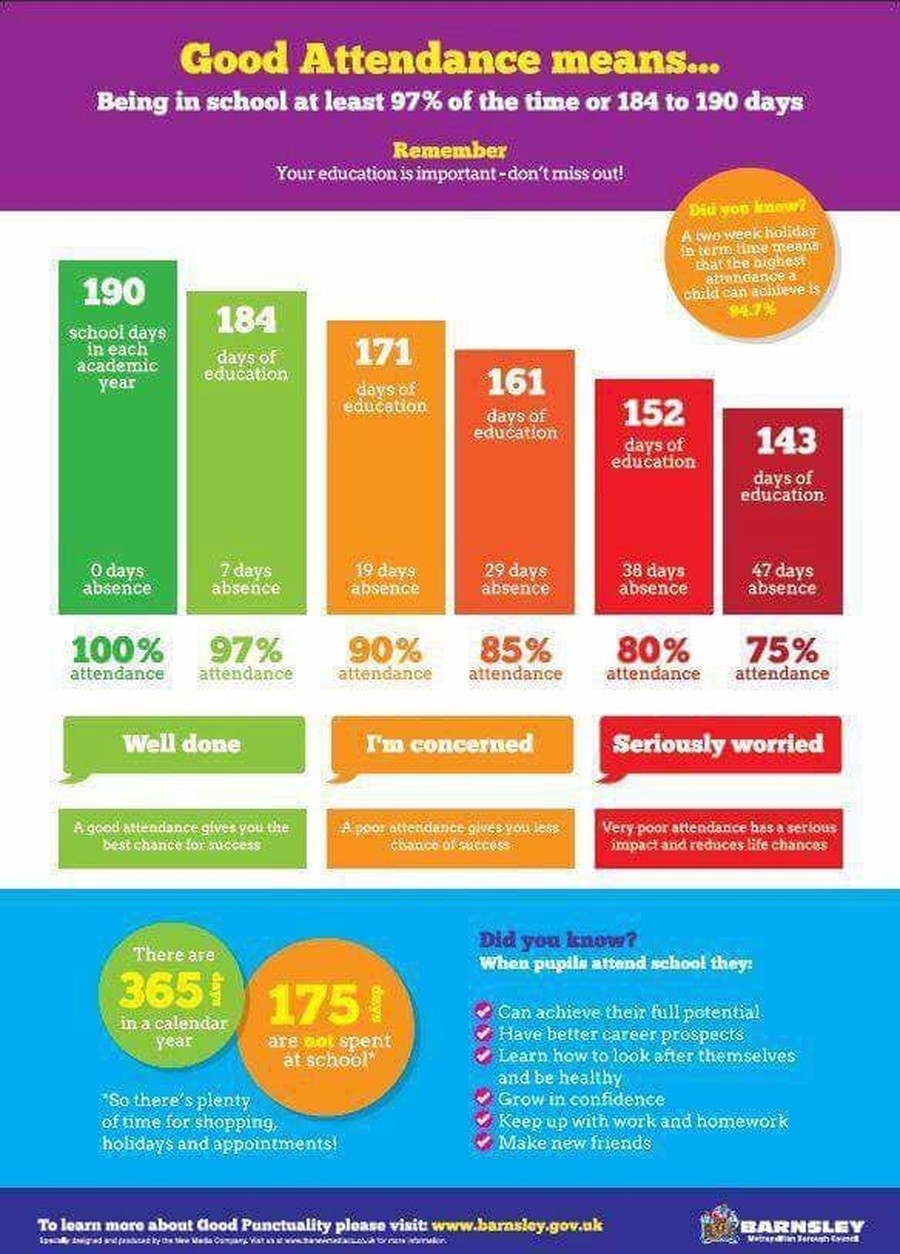 ABSENCE, SICKNESS AND MEDICAL MATTERS
Regular and punctual attendance is vital if a child is to progress at school. Children should be at school no later than 9.00am (for registration) although doors open at 8.45am (EYFS) and 8.50am (Y1-6). If your child is absent for any reason please telephone as early as possible on the first day of absence to let us know. We will contact you to find out why your child is not in school if not.
Children who arrive after 9.00am will be marked late. When your child has to leave school during the day to see a doctor or dentist, for instance, please show the office staff the appointment letter. It is essential that you collect him/her as children are not allowed to leave the premises during the day unless they are collected by a parent or other authorised person. Children should be returned after their appointment if the school day is still in session. Please avoid children missing their 9.00am or 1.15pm registration mark.
You will be asked to fill in a form containing important information about contact addresses and telephone numbers during the day in case of accident or illness. It is vital you keep this information up to date. We must be able to contact you in the event of an emergency. You will be contacted if we feel your child needs urgent medical or other attention. In the unlikely event of an emergency, the school will act in 'loco parentis' and hospitalise your child if this is felt to be necessary. We are aware of our responsibilities to children and will take all precautions to ensure their safety.
The youngest children receive a school medical examination, where hearing and eyesight are checked. Year 6 also have their height and weight checked. You have a right to withdraw your child from these medical inspections.
Please note that we are not allowed to administer any medication in school unless it is prescribed to be taken 4 times a day by a doctor and parents have completed a form (AM1) which they have given to the headteacher. Children must not keep medication themselves in bags or in coat pockets. If a child needs to use an inhaler, the class teacher should be informed and the inhaler given to her/him for safe keeping and ready access. Older pupils (KS2) keep their own inhalers with them. Any medication to be self-administered needs a form (AM4) completing by parents.
Suncream and lipbalm needs to be administered at home and not sent into school.
Medicine will be administered by the Headteacher or other senior staff. Parents may come to school during the day to administer medicine themselves by prior arrangement.
A disability register of staff and pupils is maintained in school. It is the responsibility of parents to declare if their child is disabled.