What a great season! Barnsley finalists at Y3/4 and Y5/6 age groups!
Good luck next season!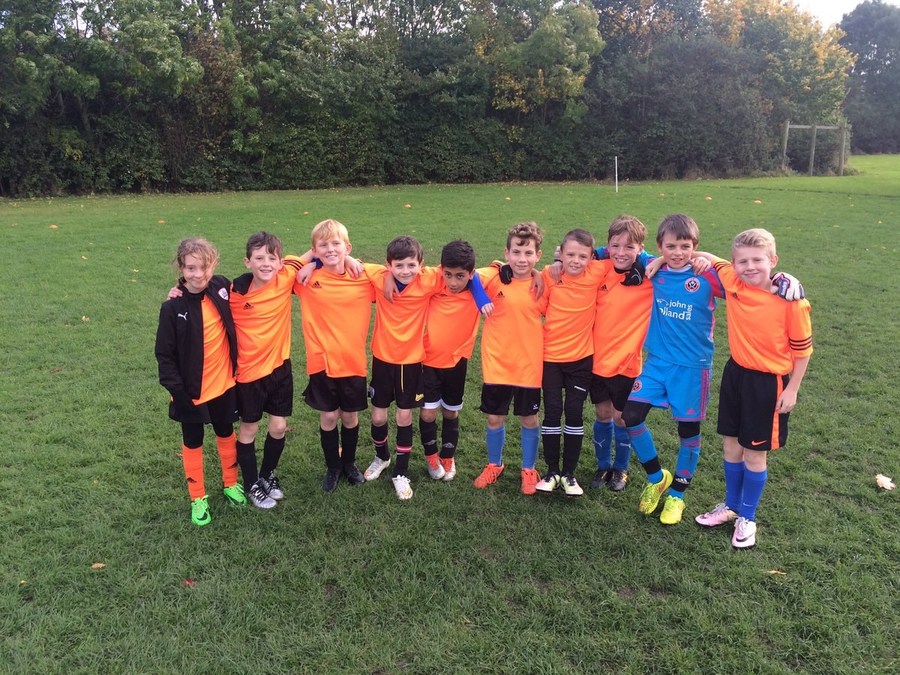 Shawlands FC
Football at Shawlands Primary School
Shawlands FC Information:
All pupils are welcome to join this club as they are working hard and presenting good behaviour in school
Training will be in three sections; warm up games, skills and a practice match
Pupils should wear shin-pads to protect themselves
Our matches are often against local schools to avoid travel complications although we will occasionally play away from home and travel by cars to the game
Our home fixtures are played on grass or at Horizon CC, on astroturf
All training and matches are free (unless we need to play at Shaw Lane or under floolights at Horizon, in which case there will be a £1 charge)
We are fully inclusive and believe that all children have a right to enjoy sport and to improve their skills
Many home matches will involve all children- I will create 2 evenly matched squads who will play a half each
Some matches and competitions will be open to children of all ages and abilities
Some matches and competitions are specific to boys or girls and children in a certain year group
Some games will see a smaller squad selected (usually due to travel ararngements)
We will be supported by ex-Shawlands pupils at our coaching sessions
Parents, family and friends are ALWAYS encouraged to come along and support the team!
Latest Matches-
v Holy Rood (Y5/6) 3-3 won 4-2 on penalties
v Penistone SJ Y5/6 Barnsley Final (Lost 3-0)
v Holy Rood Y3/4 (Won 5-4)
v Collaboration Cup (5 other schools- second place in league) Goals for Luke T (3) and Jack W (2)
v Churchfield (Cudworth) (Semi-Final) Won 7-0
v Penistone St John (N) (League Match) Lost 4-1
v Joseph Locke (A) (Friendly) Won 4-0
v Kexborough (A) (League Match) 3-0 Win (January 31st)
v Darfield Upperwood (A) Monday 10th October 2016 won 12-2
v Summer Lane (N) Drew 0-0 (All Tuesday 11th October 2016)
v Burton Road (N) Drew 0-0
v Athersley South (N) Won 6-0
v Burton Road (League Match) Won 3-2 on Tuesday 18th October 2016
Girls' Y5/6 Won their league at the Barnsley Town Centre qualifier!
Boys Y3/4 (A) won 6 games and were losing finalists at Barnsley event
Boys Y3/4 (B) drew 2 games and lost 2 at Barnsley event
Girls Y3/4 won the Barnsley finals- champions!
Boys Y5/6 Barnsley Regional Finals- 5 wins, a draw and a defeat at semi-final stage! 3rd in Barnsley!
Girls Y5/6 Barnsley Regional Finals- 3 wins, 2 draws and a defeat at semi-final stage! 3rd in Barnsley!
Y3-Y6 matches (3 squads) at Joseph Locke- 7v3 defeat, 9v1 victory and 3v1 victory!
Summary
Y3/4 Girls- 4th in South Yorkshire
Y3/4 Boys- 3rd in South Yorkshire
Y5/6 Girls- 3rd in Barnsley
Y5/6 Boys- 2nd in Barnsley
Current Star Players!
Boys- Noah G (Y3), Aston (Y4), Freddie E (Y5), Freddie C (Y6)
Girls- Selina RP (Y3), Libby(Y6)
Well done to Luke in Y6 and Nathan in Y5 for achieving their Barnsley FA Sports Ties!
(Presented in assembly 3/2/17)